FOREST GREEN ROVERS v BARNET
Vanarama Premier League
Saturday 27th September 2014
Stadium: The New Lawn, Another Way, Nailsworth GL6 0FG
Telephone: 01453 834 860
Club Colours: Green Black and White
Nickname: Rovers or Greens
Official Website: w
ww.forestgreenroversfc.com
Key Personnel:
Ex central defender Adrian Pennock, who played notably for Gillingham and Bournemouth between 1992-2003 is the current "gaffer" at FGR. He had previous managerial experience at Welling United before joining Stoke City's coaching staff. He arrived at the New Lawn in November 2013 replacing Dave Hockaday.
Adrian Pennock
Brief Directions by Road:
Nice and easy this one! On to the M4 Motorway and exit at Junction 18. Take the A46 northbound towards Stroud (not Bath) for approx. 17 miles. Remain on this A46 road and it will eventually take you directly into Nailsworth. If you were to leave the M4 a junction earlier at junction 17 and travel via the A429 and the picturesque and isolated B4014, this will also take you to Nailsworth but the first option is the quickest and more straightforward albeit a lot less scenic. Wind down hill and dale into the centre of Nailsworth and just before the Clock Tower at a mini roundabout, take the left turn into Spring Hill (signposted Forest Green and Nympsfield). The New Lawn is about a mile up the hill and on the left.
Car Parking:
The Club car park, which holds 250 cars will cost you £3 per car. However please note that this car park is often full an hour before kick off.
The New Lawn
Directions by Train: Unfortunately the closest station to the FGR ground is in Stroud (4 miles away). A train from London Paddington may involve a change at Swindon but the journey is only around 90 minutes. Taxis are quite expensive therefore made for sharing. However the 93 bus from the station runs directly to the ground every half hour. If the train is your choice of transportation to the game a visit to the Lord John pub is in order within a minute or two of disembarking!
Eating and Drinking Locally:
Look out for the Tiputts Inn about 2 miles south of Nailsworth on the A46. Or of course if it is sheer class you seek look no further than The Rose & Crown which is a 17th century inn in Nympsfield village a mile or two west of the ground.
The Village Inn is another of my personal favourites in Nailsworth, great beers if you like a selection of quality real ales.
I have another suggestion as always. On the A46 before you reach Nailsworth and close to the village of Tiltups End, there is a lay-by which is home to 'Kathleen's Cafe' one of those welcome little 'teas and hot snacks' huts owned by the Ingover family. It is has been there for years and years and a bit of an institution in Gloucestershire. It is suffering from acute old age and is very lop-sided these days so be careful!. (There are toilet facilities there too!) I hear from a very reliable source that the owner Kathleen cooks the tastiest and most reliable poached egg and sausage or bacon and mushroom roll in the County and is always pleased to see visiting fans to chat about Rovers.
Red, Brown or No sauce?
Social Club:
The Green Man, which is built into the back of the Main Stand. This bar serves real ale, hot food and all will be made welcome. Carnivorous people may have problems when searching for food inside the ground as there was a strict vegetarian policy for our last visit. Even more reason to seek alternative hostelries in the immediate vicinity.
Ground Description:
The main Western Thermal Stand is the main focus in the ground and has room for around 2,000 plus executive boxes. Opposite is a small open terrace. The Nympsfield Road Terrace which is now made available for visitors is to the right and the EESI Terrace – which has been recently reconverted to terracing from seats - is to the left. Both of these structures were relocated for the old Lawn ground when the club move in 2006/7. The capacity of the stadium is a healthy 5,140.
Nympesfield Terrace
Admission Prices:
Adults £16, Over 65's £12, Under 21's/Students £8, Under 16's £5
Previous Meetings and Memories:
Last visit was 25th February 2014 when it was a cosy drive home after a 2-1 win courtesy of Mark Byrne and Dani Lopez. That result put us third in the Skrill Premiership table but four straight defeats directly afterwards ruined the season. Our record against FGR at The old Lawn wasn't too bad as 1 win 4 draws and only 1 defeat illustrates although we were royalty entertained by a Robbie Sawyers special in a 2-2 draw in 2001 and an enthralling 4-4 draw in October 2002.
Robbie Sawyers 2000
Celebrity Watch:
If one enjoys hob knobbing with those who accommodate blue blood then this part of the Kingdom will appeal to you as the district has many royal connections. Prince and Princess Michael of Kent live in the nearby village of Bisley. They pop 'round to see their second cousin once removed Princess Ann at Gatscombe Park - which is a corgi walk up the hill from their place - quite often on their way home from dining with their dear friends of 60 years Lord and Lady Reading who have the enormous double garaged detached corner house by the bus shelter and post box in the village of Chalford. Camilla Parker Bowles, the future King Of England's wife used to have a two bed maisonette in Nailsworth and was regularly seen picking up essentials in the Stop 'n' Shop. Authors The Rev W Audrey (Thomas & Friends) and Jilly Cooper plus Tony (Baldrick/Time Team) Robinson and Mike (Tubular Bells) Oldfield all live/lived locally and never had season tickets at The Lawn. Jack Russell the England wicket-keeper is however a regular visitor.
Jack Russell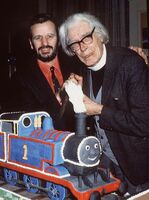 Thomas, The Rev and the greatest drummer the world has ever seen!